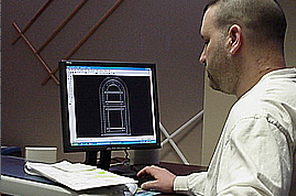 Whether you need custom muntin bar designs, custom moulding profiles, or curved mouldings for custom window units, our engineering and design group will work hard to ensure a high quality, highly accurate final product every time.
For custom curved casings, brick moulds, and jamb extensions, a template may be needed for our engineering staff to correctly design the curved moulding. If all of the window unit dimensions are not known, our engineering staff will need an outline of either the inside jamb or outside jamb of the unit. Springline units, circular units, arches, and chords each have one radius, while Elliptical and Oval units may have 2 or 3 different radius dimensions. Our precision can only be as good as the template you provide, so please take care when drawing templates.
Template Guidelines:
Each template should be drawn on a rectangular piece of paper. Red Rosin paper usually works well.
Each template must state whether the template is an outline of the inside jamb or outside jamb. If the template is of the outside jamb, please mark the jamb thickness on the template.
If any dimensions of the unit are known, write those onto the template
Do not cut out the template after outlining the unit.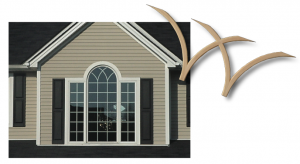 Please make all custom muntin bar sketches as detailed as possible. This will ensure that our design team can view the intricacies of each design. If the custom design has to align with other custom muntin bars, please include a detailed drawing of the other muntin bars and their window unit sizes.
If changes have to be made to the design to avoid any potential problems relating to manufacturing or structural integrity, we will provide suggestions for avoiding those problems in the design.
After our team has reviewed your drawings, a preliminary drawing of our own will be faxed or e-mailed to you for approval. This will occur BEFORE the order is finalized.
If our existing profiles cannot fulfill your needs, send us a detailed and dimensioned sketch or a wood sample of your custom profile. Our engineering staff will develop your profile in our CAD program and submit the design to you for approval. After approval, you can submit your order to Clearview, and we'll begin processing your custom profile.