Clearview Window & Door Accessories' Mission is to provide premium architectural products as well as premium customer service to each of its customers. Through constant improvements, strides for forward thinking, and reliable high quality products, Clearview will continue to strive as the industry leader in premium architectural accessories.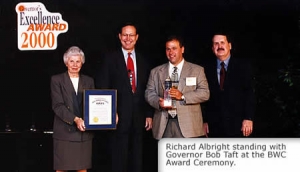 Clearview is the industry leader in specialized window and trim architectural products. Founded in 1984, Clearview Designs Inc. produced custom windows and doors for private customer, builders, contractors, and eventually for the entire window and door industry. This success came with national recognition, including international media coverage in The Wall Street Journal.
In 1995, Clearview Designs became Clearview Window & Door Accessories. Envisioning a need for high quality custom muntin bars as well as curved and lineal trim for the architectural industry, Clearview and its founder, Richard Albright, began to concentrate in these fundamental areas. The name "Clearview", which was famous for its windows and doors, would soon become the industry standard in premium architectural products. The achievements of Clearview can be attributed to a clear vision of success, strong leadership, hard work, and patience. Clearview continually looks for new and innovative ways to provide its customers premium architectural accessories. It is with these qualities that Clearview will continue to achieve lasting success in the future.
Clearview's Facility and Safety
Clearview is currently located at 730 Mahoning Avenue in Youngstown, Ohio. With approximately 80,000 square feet of production floor space, Clearview provides a clean and safe environment for each and every one of its employees. With the use of two state-of-the-art dust collection systems, our facility is one of the cleanest in the industry. Every machine at Clearview has several safety mechanisms installed to prevent accidents. Once a month, all Clearview supervisors meet to discuss potential safety issues and receive safety training. If any safety hazards occur on the production floor, each supervisor is trained to handle the situation properly. This pro-active approach has paid off tremendously.
Clearview was one of only 16 companies to receive the BWC Governor's Award for Excellence. This award was received because of Clearview's emphasis on maintaining a safe working environment and high safety standards. Through continued safety training and safety improvements, Clearview strives to make our workplace a safe one.